Create Your Website
With WordPress
Create a stunning WordPress website your visitors will love. You don't need and technical know how and you don't have to be a designer. You will be impressed how easy it is.
Choose from more than 180 designs
Fast hosting incl. domain and SSL
Starter Guide for an easy start
Start creating your website in 5 Minutes
Test it 7 days for free
---
Dein eigenes Hosting
Einmalig (zzgl. MwSt.) €347.00
Easy Designing with Divi
If you can use a keyboard and you know how to click, you can design a stunning website!
The Divi page builder is one of the most intuitive tools to design a beautiful website.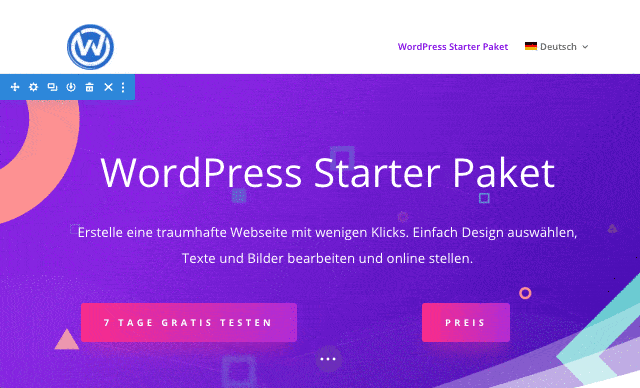 ---
Test the Divi Page Builder live
The WordPress Starter Paket
All Inclusive for the Perfect Website
1
WordPress Website
Your WordPress website completely installed and pre-designed. You can login in 5 minutes and start designing.
2
WordPress Hosting
Our fast and secure hosting incl. one domain, SSL and many extras is included.
More Informations
3
WordPress Starter Guide
We explain step by step how you can create your own website. You don't need any know how for it.
Live Preview
The Website of the Starter Package
WordPress Starter Guide
The Know How You Need
We Save You Grey Hairs
We explain in our step-by-step Guide, how you can create your professional website.
You get a complete overview where to find the most important settings in WordPress. Within a few Minutes you can change the logo, create a new page and add it to the navigation bar.
The Starter Guide saves you hours of research for the right settings. Invest this time rather in designing your website.
We kept the Starter Guide as compact as possible. The most important things for a quick start with your website are summarized in it.
Make Your Life Simpler
Save lot of Money and lot of Time
Don't make
Beginners mistakes
Save more than
per Year for Theme and Plugins
WordPress Hosting
Opmimized for Your Website
Our WordPress Hosting
Save the time researching for the best hoster. Our servers are optimized for the website of the WordPress Starter Package.
Pagespeed optimized
With our 3-level-cache system and newest server technology your website loads in average 4x faster than a non-optimized website.
Your visitors will love your website. Also Google likes faster websites and ranks them better in their search results.
Security
To protect your website from attacks, we have a continuously updated firewall. We perform daily scans of your website with our partner Sitelock.
And in case something happes, you can easily restore one of the automatic backups. That's how your website is protected as good as possible.
Your Hosting Package
The hosting of the Starter Package contains everything you need for your website:
1 Domain included
10 GB Webspace
512 MB Memory
SSL certificate included
Email accounts
Daily Backups
See more features at WordPress Hosting
WordPress Website
WordPress website pre-designed
Divi theme incl. updates inkluded
Plugins worth more than 200€
Optimized for security
Pagespeed optimized
Full admin access
Automatische Bild Optimierung
Google Analytics vorbereitet
Coming soon page
Email address protection from Spam
Easy duplicating of pages
Privacy statement (GDPR)
Legal Notice pre-configured
Templates pre-installed to change
Ready to design in 5 minutes
WordPress Hosting
One Domain included
SSL certificate included
10 GB webspace included
512 MB memory
WordPress Staging System
Email accounts
FTP accounts
SSH accounts
Automatic backups
Automatic updates (optional)
WP CLI
Cloudflare integration (CDN)
MySQL databases
Cronjobs
WordPress Starter Guide
Tutorials for global settings
Tutorial for post types
Settings in Divi theme
Tutorials for designing with Divi
Tips for SEO
Tutorial for security settings
Tutorials for widgets
Categories and tags
How to create pages and posts
Integration of Google Analytics
Many explanations to technical stuff
Get your WordPress Starter Package
3 Steps to your website
Choose Your Domain

One domain is included in the Hosting package. You can add more later.

Finish Your Order

We configure your hosting account and install your Starter Package. You can login in 5 minutes after the order.

Check Out the Starter Guide, Start Designing, Launch

Now you can start! just replace texts and images of the website and your website is finished. Of course you can change everything however you want to. The Starter Guide tells you, how this works.
---
The Price
All inclusive for the perfect start
---
One-time (excl. VAT)
€0.00
---
Monthly
€19.00
(excl. VAT)
with yearly payment or €24.00 with monthly payment
---
Test 7 Days For Free
- or -
Order Now
FAQs
Frequently Asked Questions